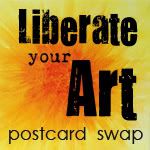 Was it three months ago that someone asked me to join Kat Sloma's postcard swap? Now I can not remember who told me about it but the event got listed in my 'pedofile" (short for pending file, haha!) and while the other projects were taken out of the list (done or canceled or something, ha!) the 'Liberate Your Art' project stayed on the list. Some of you who finds it funny that I actually work with animals would want to know that yes, Sweepy barked endlessly about it (he knows when there are pending creatives and he hates it especially if he is not included, tsk tsk!) so I finally got every
being
in Heaven and assembled everybody into a postcard mode and voila!
I brought this image to the nearest print shop to be made into a 4"x6" postcard. They were able to rush the order in 3 days and I assembled everything into a packet and mailed pronto. Since I have no paypal account :-( I have to ask my nephew to pay my postage by paypal which I reimbursed. Then, I mailed the whole stuff and finally removed this task from my pedofile.
That would have been the end of it except that I had another postcard swap with another group abroad and I was informed that they were not able to receive it after a month! So I checked all packages I sent by courier and inquired from the others including Kat. Kat has not received my cards as well. So off I rushed to the print shop again but this time I was able to print only a small 3.5"x5" because I wanted to rush all postcards in one day!. And since I was running on deadline mode, I re-sent all postcards by express courier and crossed my fingers. And since Kat has not received my nephew's paypal either (somebody received a shout out as well ;-) I have to scout for another paypal friend and Sunshine (bless her!) agreed which took some time because everybody was in a busy mode. In short, Kat got my cards and I received five beautiful ones as well! I have yet to received from the other postcard swap though ;-( Paging Kyle!
From Kat's "LiberateYourArt" swap: Clockwise from top: Ms. Margie Wachter from California, Juju of The2Buds, Suzie Puetz from Oregon, April Cole, and Kate Daniel. I have yet to visit them and thank them for such creative works which most of my kids in my graphics workshop enjoyed and will surely get inspired. I am late in posting for the blog hop this weekend but I'll just visit the other participants soon. You can see the whole thing at Kat's
blog
! And I'm also sharing this creative exchange with Lisa:
"The world of reality has its limits;
the world of imagination is boundless."
- Jean Jacques Rousseau



UPDATED: August 31, 2PM. I just received Kat Sloma's (the swap organizer) postcard thanking us for our participation. Thanks Kat! I found Kat's postcard on Sweepy's paws just this minute! The mailman knows my dog Sweepy because Sweepy gets snail mails and packages a lot! The mailman knows Sweepy more than me and must have given Sweepy the postcard! Sigh.